Indigenous Rights Activist Jairo Bedoya Disappeared
March, 2000
Indigenous rights activist Jairo Bedoya Hoyos has not been seen since 2 March 2000, when he left his son at a residential complex in Envigado, Antioquia.
Jairo Bedoya is a member of the Organizacion Indigena de Antioquia, OIA, Indigenous Organization of Antioquia, which represents indigenous communities in Antioquia department. As a member of OIA, Jairo Bedoya is involved in the 'Embera Viva' campaign for the respect of the cultural rights and security of the Embera indigenous community. This work may have made him a target of either the security forces and their paramilitary allies or guerrilla forces. In the past, those who have denounced violations of international humanitarian law or human rights violations have frequently themselves been the target of abuses.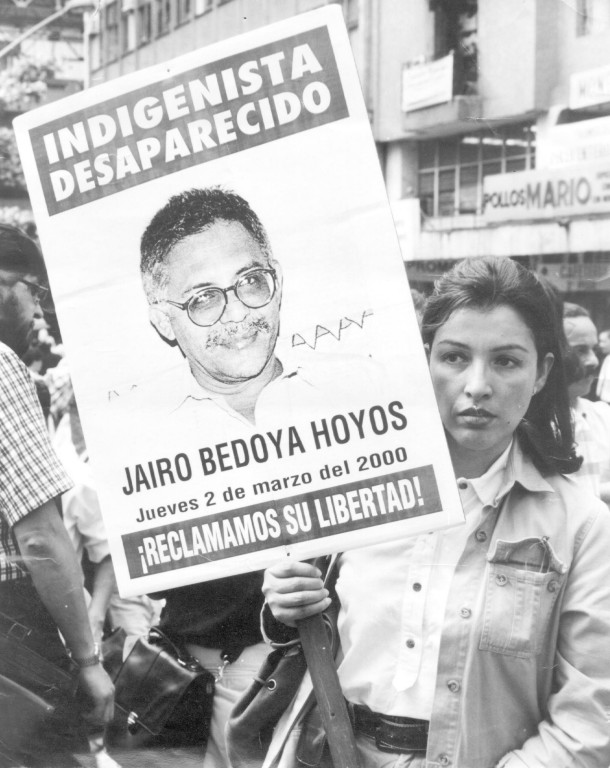 In recent years, several Embera indigenous communities that campaigned against the construction of the Urra Dam, which will destroy much of their ancestral lands, have been victims of serious human rights violations carried out by paramilitary forces working in alliance with the security forces. Guerrilla forces have also been responsible for arbitrary killings of indigenous leaders in the same region, accusing them of siding with the paramilitary or security forces.
RECOMMENDED ACTION:
Please send communications expressing concern for the safety of Jairo Bedoya Hoyos and other members of the OIA to:
Please send your letters of concern to:
Dr. ANDRES PASTRANA
Presidente de la República de Colombia
Palacio de Nariño
Carrera 8, No 7-26,
Santafé de Bogotá, COLOMBIA
Fax: (011) 57 1 286 7434/ 284 2186/ 337 1351
pastrana@presidencia.gov.co
Dr. Alberto Builes Ortega
Gobernador del Departamento de Antioquia
Gobernacion de Antioquia
Calle 42B, # 52-106
Medellin, COLOMBIA
Fax: (011) 574 381 1342
Dr. NÉSTOR HUMBERTO MARTÍNEZ NEIRA
Ministro del Interior
Ministerio del Interior
Carrera 8, No.8-09, Piso 2
Santafe de Bogota, COLOMBIA
Fax: (011) 57 1 286 8025 / 281 5884 / 342 3201
Dr. GUSTAVO BELL LEMUS
Consejero Presidencial para los Derechos Humanos,
Fax 57-1 - 3418364
Santafé de Bogotá, COLOMBIA.
Dr. JAIME BERNAL CUELLAR
Procurador General de la Nación
Fax 57-1- 2840472, 57-1-3429723
Santafé de Bogotá, COLOMBIA
Dr. ALFONSO GOMEZ MENDEZ
Fiscal General de la Nación
Diagonal 22B, No 52-01
Santafé de Bogotá, COLOMBIA
Fax: 57-1 5702122, Fax 57-1- 5702000.
Santafé de Bogotá, COLOMBIA
Dr. FERNANDO CASTRO CAICEDO
Defensor del Pueblo
Calle 55, No 10-32
Santafé de Bogotá, COLOMBIA
Fax 57-1- 3461225
Santafé de Bogotá, COLOMBIA
Please send copies to
Organizacion Iindigena de Antioquia
Cra 49#63
Medellin, Colombia.
Ambassador LUIS ALBERTO MORENO
Embassy of Colombia
2118 Leroy Place, NW,
Washington, D.C. 20008
USA
Phone (202) 387 8338
Fax: (202) 232-8643 or (202) 387-0176
Top/Arriba
Home/Página Principal